Frameworks Films - News
A new documentary on a unique woman from Cork will be screened at 12pm on Sunday 19th October 2014 in the Gate Cinema, Cork as part of the IndieCork Festival. 'Mother Jones and her Children' has been produced by Frameworks Films in collaboration with the Cork Mother Jones Commemorative Committee. For information about tickets see www.indiecork.com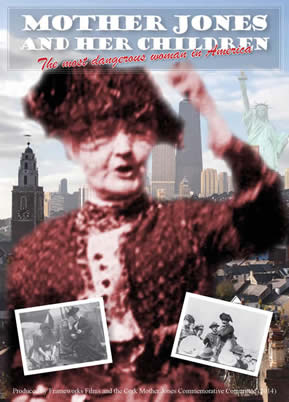 'Mother Jones and her Children' outlines the life of the most famous Cork woman in America – Mary Jones, formerly Mary Harris. The documentary tells of her extraordinary life – her early years in Cork, her survival of the Famine and emigration to Canada, her move to the US and her marriage to George Jones, her life as a mother to four young children, her tragic loss of her entire family and later her business, her entry into the labour movement and her growing involvement in organising workers to the point where she is dubbed 'the most dangerous women in America'.
With contributions from leading experts on Mother Jones, the documentary will restore her memory, particularly in her native city, where she is still relatively unknown to this day.
The documentary will also be broadcast shortly on Cork Community Television (available on Channel 803 on UPC's digital cable package) and streamed live on www.corkcommunitytv.ie 'Mother Jones and her Children' was produced with the support of the Sound and Vision scheme, an initiative of the Broadcasting Authority of Ireland.
Frameworks Films
Established in 1999, Frameworks Films is an independent film production company based in Cork City, Ireland. Our main aim is to produce challenging and thought provoking films of the highest quality for broadcast locally, nationally and internationally. Frameworks also promotes access to and participation in the filmmaking process in Cork city and county.